Grant Palmer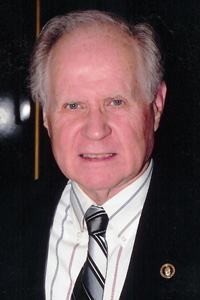 This web page is dedicated to the accomplishments of Grant Palmer and his dealings with the Mormon Church.
September 25, 2017 - Grant Palmer has passed away last night.
Grant Palmer is an author of Mormon books, a former CES Director and most importantly a friend of mine. He has been very helpful to me and to the group at MormonThink almost since its foundation when I asked him some questions about his book "An Insider's View of Mormon Origins". He gave me his number and told me to give him a call. After a long and informative call, we kept a continual dialogue on Mormon topics ever since. We often consult him on Mormon historical issues and he has always been very willing to give us the benefit of his research.

We are proud to have been the host of Grant Palmer's Home Page on MormonThink for over a decade. It remains one of the most popular of MormonThink's pages visited each month where we will always keep a complete archive of all things Grant Palmer including articles he writes, TV appearances, youtube videos, correspondence on his dealing with the LDS Church, etc. No doubt MormonThink would not be as popular as it is without Grant's many contributions over the years.

I can't say enough good things about Grant. Although some apologists criticize him for revealing certain truths about the Church after serving as a Church employee for 33 years, Grant has always been fair with the Church. For example when I was telling him about a quote from Oliver Cowdery that I was thinking about putting on our site, Grant told me that he personally researched that issue and did not think it was a valid quote and told me not to use it. That goes against the claims that some apologists have said that Grant is just trying to destroy the Church.

I've very much enjoyed reading Grant's writings, listening to his podcasts, watching his youtube videos and especially talking with him in person when visiting Utah. Grant, thank you for being my friend and for helping me when I was at my lowest after finding out that the Church I loved and grew up with wasn't exactly what I thought it was.  I will miss my friend Grant very much.
Bill Johnson
Grant Palmer Obituary: http://www.larkinmortuary.com/obituary/grant-hart-palmer/#comment-16073
Documentary: An excellent documentary has been made on Grant Palmer available to view on MormonThink's Youtube Channel. Grant Palmer: An Insider's View of Mormonism
Dying from stage four pancreatic cancer, Grant Palmer  graciously spend time with us sharing his thoughts  and research regarding the origins of the  Church of Jesus Christ of Latter Day Saints.
Grant was very ill at the time of this filming.  His mind was sharp and alert especially considering  what he was going through. We cannot thank him enough  for the precious time he has put into the making of this film.
Podcast: John Dehlin of mormonstories interview Grant Palmer. In this two-part episode we sit down a final time with Grant Palmer to discuss the release of his final book: Restoring Christ: Leaving Mormon Jesus for Jesus of the Gospels.
Update: Grant has been diagnosed with terminal cancer. A celebration of him was held on February 15, 2017. A Celebration of the Life and Work of Grant Palmer This video of this can be viewed on mormonstories.
3 part Mormonstories podcast (episodes 697-699): Celebrating the Life of Grant Palmer
NEW BOOK: "Restoring Christ: Leaving Mormon Jesus for Jesus of the Gospels". Published in 2017 and available at Amazon.
Summary: He has come to greatly prefer the Jesus of the Gospels over the Jesus of Mormonism. This book is an exploration of the foundations of his journey, and what he has chosen to believe, what he hopes others might consider. He writes on Christianity and Mormonism, with the hope that struggling Latter-day Saints can find a way forward with Christ as their foundation. Looking at both Christianity and Mormonism, his intent is to lift the baby from the bathwater, to restore the Savior, with no desire to save the Jesus of Mormonism. Joseph Smith's Restoration has grave problems. Joseph went astray in his view, because Joseph went beyond the footprint of Jesus' teachings—committing the same mistake he claimed others had made. 
This book is a Restoration-type endeavor; an effort to rediscover what is most basic, most important. How ironic to seek to restore the Christ of the Gospels from Mormonism! So what does a Latter-day Saint do when they discover that the church narrative they were taught all their life has fallen apart? For him, the "revelations" of Mormon Jesus and their practice by Joseph Smith—as especially seen in chapters 9, 17-19—is radically different from the behavior, character and personality of Jesus of Nazareth. For example, Smith produced "scriptures" which depended on nineteenth-century sources, claiming them to be ancient.  He initiated a secret "spiritual wife system" which included concubines and slandered women who resisted his sexual advances.  He married young teenagers and other men's wives.  He cursed his enemies and set up a secret organization, had himself ordained king and sought to violently overthrow the Nation. Comparing the two portraits has been the single most cathartic event since Grant's crisis of faith. He finds the Jesus of the Gospels to better reflect God's nature and love, and thus how to clearly respond to others as a disciple.
On Amazon at: 
Who is Grant Palmer?
Grant H. Palmer (M.A., American history, Brigham Young University) is a three-time director of LDS Institutes of Religion in California and Utah, a former instructor at the Church College of New Zealand, and an LDS seminary teacher at two Utah locations. Grant was employed by the LDS Church as a Church Education System (CES) teacher for 34 years and retired in 2001. He has been active in the Mormon History Association and on the board of directors of the Salt Lake Legal Defenders Association. He is the author of An Insider's View of Mormon Origins and The Incomparable Jesus. Now retired, his hobby is pigeon fancying. He has four children and eight grandchildren. He and his wife live in Sandy, Utah.
Summary: More on Grant
Books
Book authored by Grant: "An Insider's View of Mormon Origins". Published in 2002 and available at Amazon. It was sold at Deseret Books for several years and is still available there by special order. It's also still sold at the BYU bookstore.
Summary: Over the past thirty years, an enormous amount of research has been conducted into Mormon origins—Joseph Smith's early life, the Book of Mormon, the prophet's visions, and the restoration of priesthood authority. Longtime LDS educator Grant H. Palmer suggests that most Latter-day Saints remain unaware of the significance of these discoveries, and he gives a brief survey for anyone who has ever wanted to know more about these issues.
He finds that much of what we take for granted as literal history has been tailored over the years—slightly modified, added to, one aspect emphasized over another—to the point that the original narratives have been nearly lost. What was experienced as a spiritual or metaphysical event, something from a different dimension, often has been refashioned as if it were a physical, objective occurrence. This is not how the first Saints interpreted these events. Historians who have looked closer at the foundational stories and source documents have restored elements, including a nineteenth-century world view, that have been misunderstood, if not forgotten.
Excerpt: Excerpt from An insider's View
Reviews: Several scholarly reviews of An Insider's View
Response to FARM's critical review: A Reply to FARMS and the Joseph Fielding Smith Institute

Notes: on the "Golden Pot" Chapter. This is the most original and perhaps controversial chapter in An Insider's View.
Book authored by Grant: "The Incomparable Jesus". Published in 2005 and available at Amazon.
Summary: Grant Palmer closed his thirty-four-year career teaching for the LDS Church Educational System with the final thirteen years as a chaplain and the LDS Institute director at the Salt Lake County Jail. Distilled from his personal and teaching experiences, this tender testament to the incomparable Jesus describes a Savior who walked the halls with him, succoring those in need.
In this slim volume, Palmer sensitively shares his understanding of what it means to know Jesus by doing his works. He lists the qualities of divine character attested to by the Apostles Peter and Paul, and also those that Jesus revealed about himself in his masterful Sermon on the Mount, particularly in the beatitudes.
With reverence Palmer shares personal spiritual experiences that were life-changing assurances of Jesus's love for him--a love poured out unstintingly in equally life-changing blessings on prisoners whose crimes have not stopped short of sexual abuse and murder. Reading this book offers deeper understanding of the Savior's mercy, a stronger sense of his love, and a deeper commitment to follow him.
Review: "This book reminds me why I am proud to be a Christian; and it makes me want to be a better one. This slender volume provides a better insight into the atonement than anything I have ever read. Grant Palmer has given us a timely gem of a book, one that is focused exclusively on the Savior" Dee Benson - Chief Judge, U.S. Federal District Court of Utah.
Excerpts on each chapter of The Incomparable Jesus available here.
Grant's Other Writings
All of the older articles are now updated and available in Grant's latest book in 2017 above "Restoring Christ: Leaving Mormon Jesus for Jesus of the Gospels"
Grant's Timeline of events
Grant kept a detailed journal of the events as they transpired after he wrote An Insider's View of Mormon Origins. The following shows his thoughts and correspondence he had with his local leadership all throughout his church disciplinary hearing till the present:
Podcasts
Mormon Stories Podcasts - Grant Palmer was interviewed by John Dehlin of Mormon Stories for a four-part series on Mormonism. Episodes 30-33.
Mormon Expression Podcast - John Larsen talks with former Church Educational System Institute Director, teacher, and author about his journey within Mormonism and his view of Jesus.
Mormon Stories Podcast episodes 324-326 - In this episode Grant Palmer returns to Mormon Stories to discuss: Sexual allegations made against Joseph Smith during his early years The story of William and Jane Law, and An update on Grant's resignation from the LDS church.
Mormon Stories Podcast episodes 697 - 699 In this three-part interview, we honor Grant Palmer, former LDS seminary/institute instructor, and author of "An Insider's View of Mormon Origins" – which provides a plausible explanation for how the Book of Mormon was authored by Joseph Smith.
This interview has three parts:
Part 1: Grant reflects on his experience authoring An Insider's View of Mormon origins, discusses his disfellowshipment and ultimate decision to resign from the LDS (after threats of excommunication).  Grant also reflects upon the impact of An Insider's View on the LDS church.
Part 2: Grant discusses his new, yet-to-be-published book, "Restoring Christ."  Within the book he discusses why he continues to believe, how he justifies belief in Christ and the Bible after losing faith in the LDS church and in the Book of Mormon, what the atonement does and doesn't mean to him, how he deals with the God of the Old Testament, etc.  He also discusses in-depth his conversation with an LDS general authority who claims that modern LDS apostles receive $1 million once they become apostles, and that many of them do not believe the LDS church to be true (a claim that I challenge).
Part 3: Participants in the evening share with Grant what his work has meant to them.  In addition, Tyler Glenn (Neon Trees) sings two songs in honor of Grant from his new album, Excommunication.
Radio Station Interview
Interview with Grant H. Palmer, 2004
Gena Edvalson, "RadioActive," KRCL Radio FM 90.9
Click for: Audio version or Transcript
Documentary Appearance
PBS Special "The Mormons" - aired by PBS Frontline on May 1, 2006. Provided commentary in the second part. He appears about 45 minutes into the first hour of Part II, for about two minutes. Here's a one minute youtube video excerpt.
TV Interviews
Jason Wallace Interviews
Grant was interviewed Wed. May 18, 2011 and Wed. May 25, 2011 on live TV by Jason Wallace on Channel 20 in the greater Salt Lake area. Wed May 18, the focus was on An Insider's View of Mormon Origins and the future of Mormonism. On Wed May 25, the focus was on comparing the Mormon Jesus with the New Testament Jesus, especially their personality, behavior, attitudes and what their doctrinal emphasis is. The format each week was an interview for 30 minutes followed by questions from callers.
First Interview available online Part 1.
Second Interview available online Part 2.
Interview on 19 November 2014 with Jason Wallace on TV 20 here in SLC : The Ancient Paths - Grant Palmer on New Polygamy Statement
Interview on 22 April 2015 with Jason Wallace on "Why William Law opposed Joseph Smith in Nauvoo" during the last two years of Smith's life.
What Love Is This Interviews
Grant appeared 17 May 2012 and the following Thursday, 24 May on Doris Hansen's show called Polygamy: What Love Is This? The subject of the first interview was "Sexual allegations against Joseph Smith" and the following Thursday was on "Did Joseph Smith commit treason in his quest for political empire in 1844?" Both shows were live with call in questions.
First interview: Youtube Link to site.
Second interview: Youtube Link to site.
TV Program - "Encounters with Christ"
16 August 2012 interview with Grant Palmer: SacredGrovesOnline
Debate with LDS Institute director Alma Allred:
Jason Wallace interviewed Grant and a LDS Institute Director from the U of U Institute of Religion (Alma Allred) on the Implications of Joseph Smith's use of his stone for producing the BOM, the earliest (18 ) sections of the D&C, and treasure seeking between 1822-1827) that he reportedly used this stone for.
The Ex-Mormon Files Youtube Videos
Episode 200 Grant Palmer part 1
Episode 201 Grant Palmer part 2
Episode 202 Grant Palmer part 3
Episode 203 Grant Palmer part 4
Youtube video presentation: "Joseph Smith's changing view of God" with Grant Palmer
Internet Interviews
Grant did an 'Ask Me Anything' (AMA) on reddit on 5 December 2013. Grant Palmer AMA (edited 12 December 2013)
Sunstone Symposiums
Recordings are available from Sunstone for these topics were presented by Grant and others:
The Ethics of Doubt. 2005
Mormon Contributions To Christology And Understanding The Atonement. 2005
How 'Christian' Should Mormonism Strive to be? 2004
Author Meets Critics: An Insider's View of Mormon Origins. 2003
DVD
Grant appears in several small clips in the DVD "LDS Transitions"
Ex-Mormon Conference Talk
October 2012 Ex-Mormon Conference Talk by Grant Palmer entitled "My Ah-Ha Moments in Researching Mormon History"
This was a great presentation by Grant that everyone really enjoyed.
Youtube Version - My Ah-Ha Moments in Researching Mormon History

Audio Version - Full List of 2012 Presenters audio only