Park Romney
This web page is dedicated to the accomplishments of Park Romney and his dealings with the Mormon Church.
Who is Park Romney?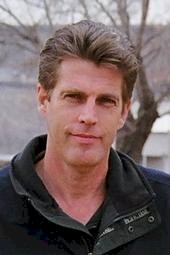 Park Romney is the second cousin of presidential candidate Mitt Romney. Like most of Mitt's family and extended family, Park Romney was raised a member of the LDS Church. He was an active member for most of his life obtaining the office of High Priest in the Mormon faith. He requested that his name be removed from the records of the church in 2004 after coming to believe that the LDS Church is not what it claims to be.

Relationship to Mitt Romney
Park's father and Mitt's (late) father are 1st cousins.That makes Mitt and Park 2nd cousins.They share the great grandfather, Miles Park Romney, in common.Mitt's line comes from Miles Park's 1st wife.Park's line comes from Miles Park's 2nd wife.
Links
Park's website: Link is here.
Television Interview
The Mormon Candidate - a BBC documentary.
The BBC aired a documentary on Mitt Romney and Mormonism in March, 2012. It features several interviews with Apostle Jeffrey Holland and many others including Park Romney.
Available in its entirety on youtube here.
Interview
Posted Interview with Park Romney about Mormonism and Mitt Romney: Frequently Asked Questions
Radio Interview
Park Romney radio interview - 6/15/2011
Newspaper Articles and Other Articles
The Washington Post: Meet Mitt Romney's cousin
Article: In Support of Resignation
Why Trifle with Mormonism? by Park Romney - 5/2/2013
Book
Book authored by Park in 2011: "The Apostasy of a High Priest". Available now at Amazon.
Park B. Romney, of the Mormon Romney's, breaks a 5 year silence with this astounding retraction of his testimony of the divine authority of the Church of Jesus Christ of Latter-day Saints, more commonly known as the Mormon Church. Romney, a former High Priest of the Mormon Church, presents this poignant and challenging commentary on the sociology of the Mormon culture with inescapable questions about its doctrines. Groundbreaking by several accounts, it is a "must-read" for anyone interested in the social dynamics of one of the largest and most influential multinational conglomerates on the planet, the Mormon Church.
Biography:

Park B. Romney, born in Spokane, Washington, in 1956 was ordained as High Priest in the Mormon Melchizedek priesthood in 1982. He served in two successive Mormon Bishoprics as "Counselor", and as a member of a Stake Mission Presidency. He asked to have his name removed from the records of the Church in 2004, having concluded that he could no longer support the claims of the Church's divine authority. He is the son of the former marriage of Milton C. Romney and Evelyn Brannock Romney. Milton C. Romney is the great grandson of Miles Park Romney, the Mormon polygamist who gained notoriety as a result of the Mitt Romney campaign for the presidency in 2008. Miles Park Romney was the son of Miles Romney who immigrated to Nauvoo, Illinois from Lancashire, England to join Joseph Smith's community of Mormons as a result of the missionary efforts of Orson Hyde, an early Mormon apostle. Both Miles Romney and Miles Park Romney are celebrated for their prominent roles in the construction of Mormon temples. Park Romney is seen here standing next to the gravestone of Miles Romney in St. George, which is a historical landmark.