Engraving On Metal Plates
According to Joseph Smith, he translated the Book of Mormon from an original text which was engraved on metal plates. In the text, the ancient authors mentioned how precious the space was on the plates, and they gave as their reason for writing in Egyptian (or "reformed" Egyptian) that this language required less space than Hebrew, their native language. This claim does not hold up under examination.
"And as these plates are small, and as these things are written for the intent of the benefit of our brethren the Lamanites, wherefore, it must needs be that I write a little; but I shall not write the things of my prophesying, nor of my revelations. ."
"And I, Jarom, do not write more, for the plates are small." - Jarom 2, 14

"And if our plates had been sufficiently large we should have written in Hebrew; ..... " - Mormon 9:33

" And now, behold, we have written this record according to our knowledge, in the characters which are called among us the reformed Egyptian, being handed down and altered by us, according to our manner of speech.
"... the Hebrew hath been altered by us also; and if we could have written in Hebrew, behold, ye would have had no imperfection in our record." - Mormon 9:32-33
"Reformed Egyptian"
Does it make sense that writing in Hebrew would have required so much more space than writing in some form of Egyptian?

At the time of Lehi there were three written forms of Egyptian: Hieroglyphic (stone & papyrus, from ca 2700 BC), Hieratic (ink on papyrus, from 2700 BC), and Demotic (all media, from 650 BC).

Here is an example of a short sentence written in hieroglyphic Egyptian:

The characters were pronounced "au er-tana tau" and mean "I have given bread."

In Hebrew this could be written in seven Hebrew characters, pronounced "nathati lechem" (reading right to left):

If one were to use Hebrew characters to write the Egyptian sounds, the Hebrew characters would be (also reading right to left):
pronounced "au er-tana tau." Clearly, hieroglyphic Egyptian would not have saved space on the metal plates.

Hieratic Egyptian is derived directly from the hieroglyphic, and is no more space-saving. But what about demotic? It is essentially an alphabet, like Hebrew, with each character representing a sound. Here is the demotic alphabet:
And here is the Hebrew alphabet, for comparison:
For comparison, here is the only sample of characters from the plates that exists, the so-called "Anthon Transcript," which Martin Harris took to New York to show to language professors at Columbia.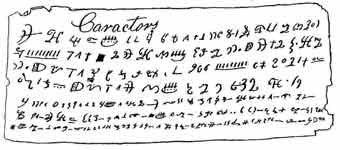 An interesting analysis of these "Caractors" by Richard Stout titled "A Singular Discovery" shows a possible origin for them in the "Detroit Manuscript," an obscure document which has connections to Joseph Smith's uncle and to Professor Mitchill at Columbia, who referred Harris to Anthon.
One must ask then, why would any Hebrew writer engraving onto metal tablets feel that he would save a great deal of space by using demotic characters rather than Hebrew? It would seem there would be no saving of space at all. Also, the fact that the Jews considered their language sacred, there would be no reason whatsoever for them to keep sacred records in a foreign language, especially the language of a people who had oppressed and enslaved them.

Some Mormon apologists have pointed out that archaeologists have indeed found Egyptian writings in ancient Palestine, and even some sacred Jewish texts written in Egyptian. Those can be easily explained: Egyptians often occupied Palestine, so it would not be unusual to find Egyptian writing there. There is no reason to assume that Egyptian writings in Palestine were written by Jews and not Egyptians. At most they would be written by bilingual Jews for Egyptian readers who did not know Hebrew. That certainly would not be the case for Lehi's followers to write in Egyptian. They had no audience whose only language was Egyptian.

A modern example might be the fact that during the German occupation of France in the 1940s there were obviously a number of publications in German, for use of the occupation forces. Some Frenchmen were probably bilingual, and made translations of French materials into German for German readers. But it would be extremely unlikely that French speakers who escaped their occupied homeland and found refuge in other countries would have written their diaries in German. And the Jews with Lehi would just as unlikely have written their records in Egyptian.

Why then, did the Nephites choose to write in a form of Egyptian? The obvious answer seems to be that Joseph Smith felt he was less likely to be exposed if he showed plates with engravings in a still-undeciphered language (Egyptian) than in a relatively better-known language (Hebrew). To add an additional degree of safety, he claimed that the Egyptian had been "altered." His Egyptian ploy finally caught up with him in the Book of Abraham.
Editing "on the fly"
One must imagine the Nephite authors working with a stylus on their metal plates, painstakingly etching each character. Surely they must have planned carefully what they were going to write, before putting stylus to metal. But there are numerous passages in the Book of Mormon which look like they are the product of rapid dictation, with corrections made "on the fly." They seem quite unlike the product of "think before you write." A few of the many examples:
"Wherefore, I, Nephi, did make a record upon the other plates, which gives an account, or which gives a greater account of the wars and contentions..." - 1 Nephi 19:4

"Yea, even the very God of Israel do men trample under their feet; I say, trample under their feet but I would speak in other words—they set him at naught, ..." - 1 Nephi 19:7

"..who went up to dwell in the land of Lehi-Nephi, or in the city of Lehi-Nephi" - Mosiah 7:1

"..and by them shall all things be revealed, or, rather, shall secret things be made manifest.." - Mosiah 8:17

"..king Noah sent his armies against them, and they were driven back, or they drove them back for a time.." - Mosiah 11:18
Wordiness
Another characteristic of the Book of Mormon text that makes one skeptical about its having been engraved on metal plates where space was precious, is the extreme wordiness of many passages. Many examples could be cited. Here are just a few, with the original text on the left and the same information in a more space-saving form on the right, for comparison: